6 Gerakan Yoga ketika Flu
March 29th, 2021
sfidnfits.com - Olahraga baik untuk kesehatan fisik dan mental, bahkan untuk sistem kekebalan tubuh jika dilakukan dengan intensitas sedang. Namun, hal itu bukan berarti bahwa Anda harus tetap berolahraga saat merasa tidak enak badan. Jika Anda tetap ingin berolahraga, yoga adalah latihan yang tepat.
Yoga ketika Flu
Olahraga yang konsisten, seperti tiga kali atau lebih dalam seminggu adalah kunci untuk merasakan manfaat yoga. Jika Anda demam, sebaiknya beristirahat dan merawat diri hingga sembuh. Namun, jika Anda flu, ada beberapa gerakan yoga yang bisa dilakukan di rumah. Gerakan-gerakan yoga ini bertujuan untuk melegakan pernapasan.
6 Gerakan Yoga ketika Flu yang Bisa Dicoba
1. Bridge Pose
Gerakan bridge pose diyakini dapat merangsang kelenjar timus. Kelenjar timus adalah kelenjar yang terletak di tengah rongga dada, tepatnya di belakang tulang dada dan di antara paru-paru. Untuk melakukan gerakan ini, Anda bisa terlentang, lutut ditekuk, dan kaki terbuka selebar pinggul. Kencangkan otot bokong dan tekan tumit untuk mengangkat pinggul ke atas. Ulangi gerakan sebanyak 20 kali.
2. Bound Angle Pose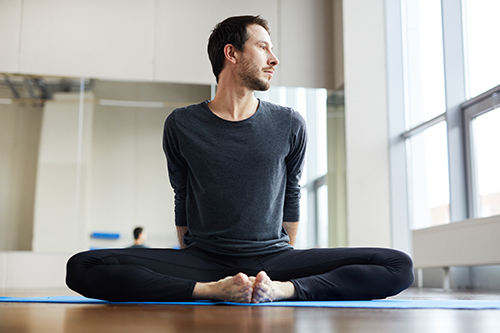 Bound Angle adalah gerakan yoga yang dapat merangsang jantung dan meningkatkan sirkulasi darah, meringankan depresi, meningkatkan kualitas tidur, dan meminimalisir rasa lelah. Gerakan Bound Angle dilakukan dengan cara duduk dengan kaki direntangkan ke depan. Tekuk lutut melebar ke dalam dan rapatkan kedua tapak kaki, sekitar 1-2 kaki di depan Anda. Tahan pergelangan kaki dengan kedua tangan Anda. Tarik napas panjang dan regangkan tulang belakang. Lakukan sebanyak 20 kali.
3. Downward Facing Dog
Downward Facing Dog membantu Anda menggerakan sel darah putih melalui tubuh untuk menguras saluran sinus. Oleh karena itu, gerakan ini bisa mengatasi flu. Downward Facing Dog dilakukan dengan merebahkan tubuh dengan posisi tengkurap di atas matras. Angkat tubuh kemudian arahkan bokong ke arah langit-langit. Usahakan tulang punggung lurus dan ulangi gerakan setidaknya lima kali.
4. Seated Spinal Twist
Gerakan Seated Spinal Twist membantu mendetoksifikasi tubuh dengan menggerakkan organ tubuh dan mengaktifkan organ sekunder dari sistem kekebalan tubuh. Gerakan ini bisa dilakukan dengan duduk di atas matras, tekuk lutut kanan dan letakkan kaki kanan di lantai sebelah luar paha kiri. Anda dapat menahan kaki kiri lurus atau menekuknya dan menempatkan tumit kiri di bawah otot bokong kanan. Putar badan ke kanan dan letakkan tangan kanan di atas paha atau di atas matras. Tarik napas panjang dan ulangi gerakan pada sisi sebelahnya.
5. Seated Forward Bend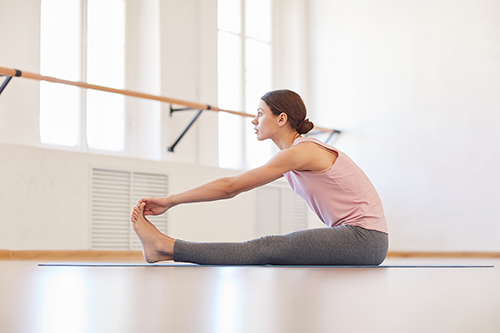 Gerakan yoga ini meredakan sakit kepala, mengatasi rasa cemas, dan mengurangi rasa lelah. Gerakan ini bisa dilakukan dengan membentuk pose duduk membungkuk di atas matras. Kemudian, duduk tegak dengan kaki terlentang di depan. Tekuk jari-jari Anda ke arah paha dalam. Tarik napas dan angkat lengat ke atas kepala.
6. Legs Up the Wall
Gerakan yoga ini membantu cairan getah bening dan sel-sel kekebalan bergerak melalui tubuh dengan meningkatkan sirkulasi darah manusia. Gerakan Legs Up the Wall dilakukan dengan angkat kaki ke tembok hingga tegak lurus dengan lantai.Posisikan bokong sedekat mungkin dengan tembok. Pastikan tubuh bertumpu pada pundak dan punggung. Tahan posisi selama 10 menit.
Enam gerakan yoga di atas dapat membantu meredakan gejala flu dan menyembuhkan pilek. Untuk mendapatkan manfaat yang maksimal, Anda harus mengimbanginya dengan pola makan sehat.