3 Cara Mudah Membuat Home Gym Sendiri di Rumah
December 13th, 2022
sfidnfits.com – Semakin terbukanya informasi kesehatan di media sosial, semakin banyak orang yang sadar akan pentingnya menjaga kesehatan tubuh.

Kini banyak dari mereka yang berlomba-lomba mewujudkan gaya hidup sehari dengan mulai mengonsumsi makanan sehat hingga membayar keanggotaan di gym atau pusat kebugaran lainnya.
Namun, untuk biaya keanggotaan gym, kamu bisa memangkasnya dengan cara membuat home gym sendiri. Membuat home gym sendiri di rumah dianggap sebagai salah satu opsi terbaik.
Selain untuk menghindari biaya keanggotaan gym yang tidak murah, kamu juga bisa leluasa berlatih dan bebas mengatur jam olahragamu sendiri. Untuk mewujudkan home gym yang aman dan nyaman di rumah, simak langkah-langkahnya di bawah ini.
3 Cara Mudah Membuat Home Gym Sendiri di Rumah
1. Pilih ruangan yang tepat
Hal pertama yang harus kamu siapkan saat akan membuat home gym sendiri adalah ruangan. Sederhananya, ruangan yang akan kamu pakai untuk latihan itu bergantung pada seberapa banyak ruang yang kamu miliki dan latihan apa yang ingin kamu selesaikan.
Untuk jenis latihan HIIT, kamu membutuhkan lebih banyak ruang dan permukaan yang kokoh untuk gerakan melompat-lompat. Sementara, untuk jenis latihan yoga atau pilates, kamu membutuhkan sedikit lebih banyak ruang dari ukuran matras yogamu.
Dan, untuk regimen angkat berat yang menampilkan semua peralatan untuk kamu gunakan, kamu memerlukan seluruh ruangannya sendiri untuk latihan tersebut.
2. Sediakan peralatan gym di dalamnya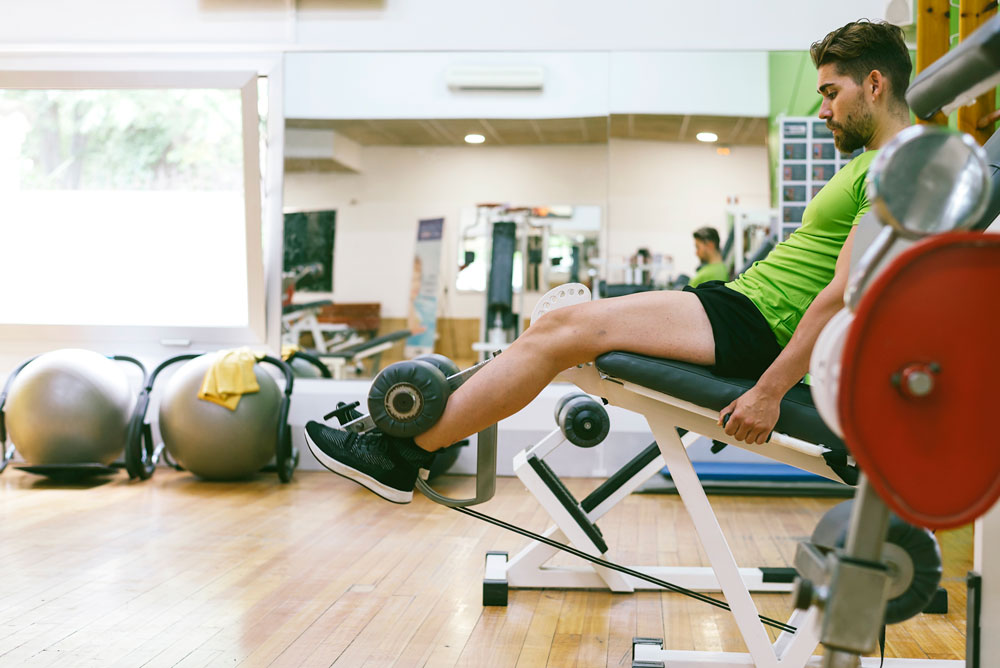 Ketika kamu begitu termotivasi untuk membuat home gym di rumahmu, kamu mungkin akan tergoda untuk membeli semua peralatan gym mewah di awal. Namun, jangan melakukannya seperti itu.
Tambahkan peralatan sedikit demi sedikit. Untuk peralatan, mulailah dengan beberapa alat yang kamu tahu akan segera kamu gunakan dan bangkamu gunakan.
Jika ternyata kamu konsisten menggunakan gym atau jika kamu semakin kuat dan membutuhkan beban yang lebih berat, saat itulah kamu harus melakukan pembelian berikutnya atau membeli sesuatu yang lebih mahal secara royal.
Di sini, kami akan mencantumkan beberapa kebutuhan gym di rumah, dari dasar hingga lanjutan. Berikut daftarnya:
Peralatan dasar (cenderung murah)
· Matras olahraga atau matras yoga
· Resistance band (ringan, sedang, berat)
· Bench, step bench or box (sesuatu untuk meninggikanmu)
Peralatan untuk latihan beban
· Suspension trainer (alat ini bagus untuk pemula atau sebelum berinvestasi dalam beban)
· Dumbbell (ringan, sedang, berat)
· Medicine ball atau sandbags
· Kettlebell
· Barbell dan plate weight
Peralatan kardio
· Treadmill
· Elliptical
· Rower
· Ski Erg
· Vertical climber
· Stairclimber
· Assault bike
Peralatan lanjutan (lebih mahal)
· Battle ropes
· Power tower
· Squat rack
Item home gym lainnya untuk dipertimbangkan
· Sebuah kipas
· Handuk
· Cermin
· Penyimpanan peralatan olahraga, seperti rak halter atau dudukan dinding untuk bola stabilitas
3. Desain ruangan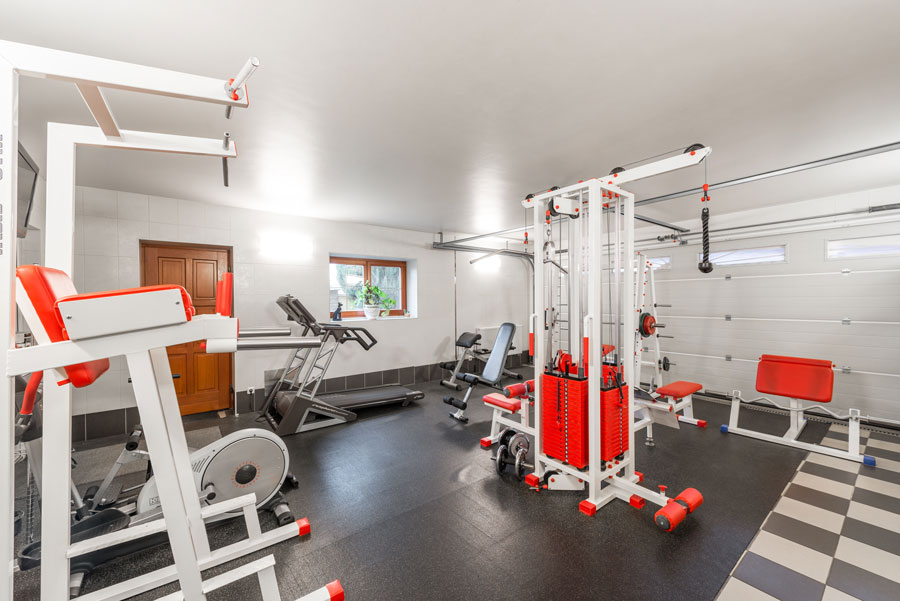 Mendesain home gym lebih dari sekadar menumpuk peralatan di ruangan yang tidak terpakai, ini membutuhkan pembuatan tata letak dengan aliran ruang yang baik.
Untuk desain home gym, pastikan kamu memiliki banyak cahaya di dalamnya, baik cahaya alami yang masuk melalui jendela atau dari bola lampu agar kamu dapat memantau bentuk tubuhmu dengan mudah.
Pada saat yang sama, kamu juga bisa menambahkan cermin ke ruang latihanmu. Cermin bagus untuk bermeditasi tentang gerakan dan memungkinkanmu menjadi instrukturmu sendiri.
Selain itu, cermin juga dapat membantu membuka ruang, membuatnya tampak lebih besar dari yang sebenarnya, yang kemudian dapat membantumu merasa tidak terlalu sempit di home gym yang lebih kecil.
Dan, jika kamu mengubah ruangan menjadi area gym, pastikan untuk menutupi lantainya dengan karpet yang biasanya dipakai di area gym untuk memberi tubuhmu sedikit bantalan saat kamu melakukan latihan inti atau gerakan plyometric dan melindungi lantai agar tidak licin.
Membuat home gym sendiri di rumah membutuhkan usaha dan biaya. Namun, yang perlu kamu ingat adalah biaya yang kamu keluarkan hanya di awal saja, selebihnya kamu bebas biaya dan ruangan gym tersebut bisa kamu gunakan seumur hidupmu. Tentunya, ini adalah investasi terbaik, bukan?
Referensi:
Shape, (2020). How to Set Up a Home Gym You'll Actually Want to Workout in.
Clevelandclinic, (2021). How to Create a Home Gym You'll Actually Use.
Nytimes, (2022). How to Design a Home Gym That You'll Actually Use.
Related Products You Must Have